Nimz1466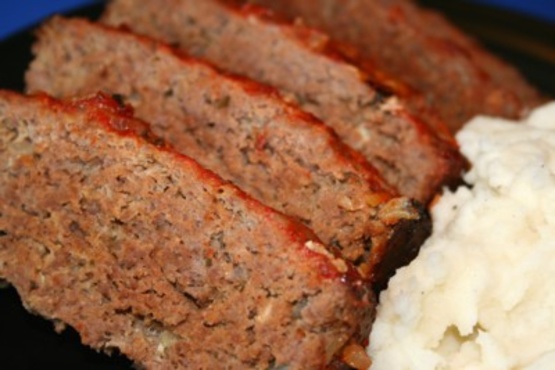 I don't remember where I got this recipe. I have been making it for years. It is my husband's favorite.

We loved this meatloaf. It was one of my PAC recipes and I'm so glad I chose it. I don't usually like a tomato base for my meatloaf, but this was very good, although I didn't use all of the tomato sauce on top. I did, however, add half to the meat mixture and just brushed a little on top before adding the bacon. The bacon added a great flavor to the meat. Thanks so much NMG.
Preheat oven to 350 degrees.
In a medium skillet heat oil over medium heat.
Add onion and garlic and cook until softened.
Stir in tomato sauce and parsley and cook for 2 minutes.
In a large bowl stir together ground beef, bread crumbs, egg, salt, pepper, and half of the tomato mix, until well combined.
Shape meat into a loaf shape in a large roasting pan.
Brush with remaining tomato mix.
Arrange bacon over meat.
Bake until no longer pink inside, about 1 hour, 30 min.
Let stand 10 min before serving.