Best Ever Macaroni & Cheese
diner524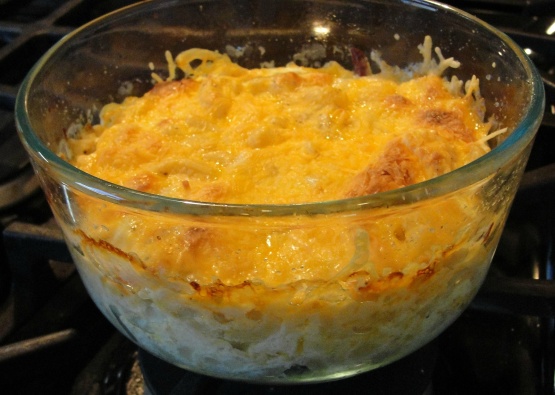 This is a family recipe, and an all time favorite of mine. Some people like to substitute cheddar cheese, but I don't like it myself. For me it's American cheese or no Mac & Cheese. The amount of cheese is an estimate, I just grate enough until I think it is cheesy enough. Blocks of American cheese is hard to find for me, so I've used sliced American cheese and have not had a problem. I hope you enjoy!
I made a scaled back amount for this recipe, for two. I used Boar's Head White American Cheese, that I shredded and also sharp cheddar cheese, in equal amounts. The only other change I made, was to use egg beaters, to fit diet, and then baked as instructed. After the bake time was up, it was still way too runny/too much liquid, so I put it bake in for a longer time. I am not giving a star rating, as my changes may have changed the recipe too much. The end result was a kind of curdled mess of cheese and noodles. So I am also wondering if the the hunk of American cheese they gave me at the deli was old, as I know the shredded cheddar was good, as I have used it in recent recipes??? Thanks for sharing the recipe. Made for Rookie Recipe Tag Game.
Bring water to boil in a sauce pan.
Add 1 teaspoon of salt & macaroni to pan and stir.
When water boils again, reduce heat and cook for 10 minutes, drain macaroni.
Butter or coat a 2-quart casserole dish with cooking spray.
Cover the casserole dish with a layer of macaroni.
Add a layer of grated American cheese.
Salt and pepper to lightly cover layer, add a small amount of butter.
Repeat layering procedure, end with a layer of cheese.
Beat one egg, add 1 1/4 cup milk and stir together. Pour egg/milk mixture over macaroni & cheese. If necessary, add enough milk to bring the milk level with 3/4-inch of top of macaroni & cheese.
Bake at 350 degrees for 30-40 minutes, uncovered.