Best Ever Fresh Apple Cake
Bayhill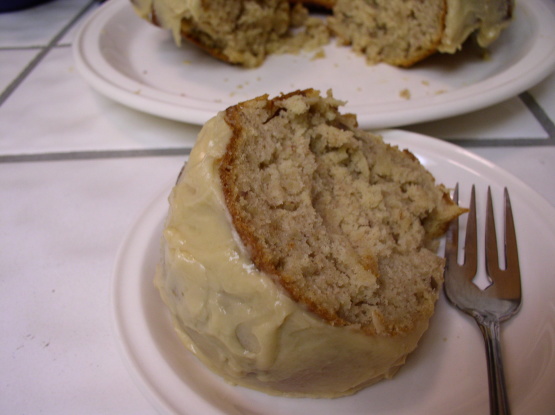 I had this at a party I attended, and could not get over how moist and delicious it was. No way was I leaving without the recipe!

I'm sorry, but this cake just didn't do it for me. It just wasn't what I expected. I was expecting a denser cake (more like a coffee cake) and this had more of the consistency of a layer cake (light & fluffy). I think if it was baked in a 9" x 13" pan it might have been better. I did like the taste though.....
Preheat oven to 350.
Grease or spray 10 inch tube pan and flour.
For cake, combine cake mix, flour, eggs, apple juice, oil and cinnamon in large bowl.
Fold apples and pecans into batter.
Pour into prepared pan.
Bake 45 minutes or until toothpick inserted in center comes out clean.
Cool in pan for 25 minutes.
Invert onto serving plate; cool completely.
For frosting, combine margarine, brown sugar, white sugar ,and whipping cream in saucepan. Bring to a boil over medium heat; boil one minute. Remove from heat.
Cool for 20 minutes. Add confectioner sugar and vanilla extract. Blend with wooden spoon until smooth and thick.
Spread frosting on cake.
Garnish with pecans, if desired.
ENJOY!