Best Ever French Toast-Breese Waye Inn
diner524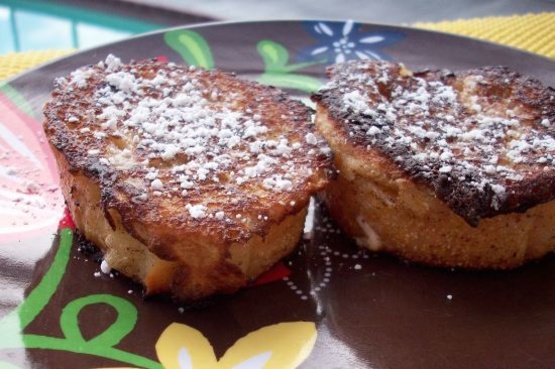 My parents stayed at this B&B, I think in Iowa, and brought back this recipe. This is a great breakfast for company as it can be made the night before. I made it for a choir retreat and it was a big hit. Tastes good as is as well as with maple syrup. I included the time in the refrigerator in the cooking passive time. Other than that, this really is a quick breakfast.
Whisk together the milk and eggs until well blended.
Whisk in the sugar, cinnamon and vanilla making sure the sugar is completely dissolved.
Add the butter.
Slice the French Bread loaf into 3/4 inch slices and place into a 13x9 inch pan.
Pour egg mixture over the bread and place pan in refrigerator for at least an hour but can be overnight.
Heat griddle to medium and use cooking spray or butter to prevent sticking. Cook bread slices until golden brown.
Sprinkle with powdered sugar.