Best Ever Fettuccine Alfredo
lazyme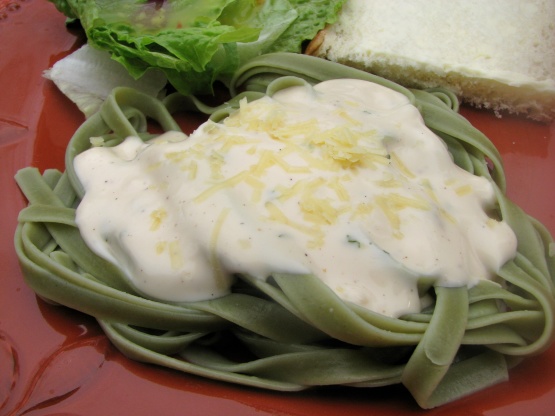 This is an absolutely wonderful Fettuccine Alfredo. Very rich and tasteful.

Very easy to prepare--could definitely use a kick of pepper, but was also good as is. I appreciated the reminder to mix the egg apart from the pan, as it really prevents the scrambled egg effect! Served with garlic bread and caesar salad, this is an easy weeknight meal. Thanks for posting, Nimz!
Bring a large pot of salted water to a boil.
Add fettucine pasta and cook for 8 to 10 minutes or until al dente and drain Melt butter in a large skillet and add chopped garlic.
Cook on low for about 5 minutes, stirring often, making sure not to burn the garlic Pour about 1/4 cup of the heavy cream into a small bow.
Add the egg yolk and beat together and put aside.
Pour the remaining cream into the frying pan.
Increase the heat to medium-high.
As the cream starts to boil, mix rapidly using a whisk.
Slowly add the cream/egg mixture.
You do not want the egg to cook.
Continue beating the cream mixture until all mixed together.
Add 1 cup of Parmesan cheese and continue to mix the cream.
Pour in remaining Parmesan and parsley and mix until smooth.
Immediately remove from stove.
Serve over cooked pasta.