Best Ever Chocolate Zucchini Cake
Diana 2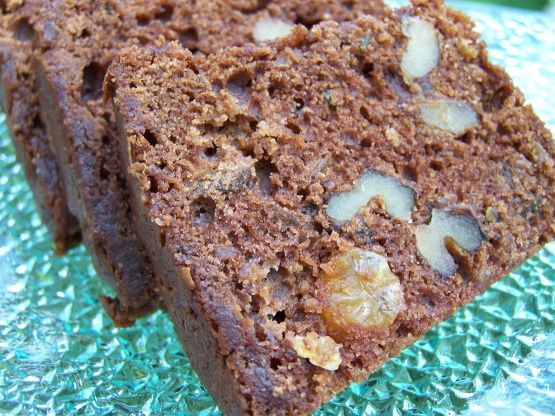 I've been making this recipe for ions now. It was a collaboration between myself and a friend about 25 years ago. I haven't found one I like better. I hope you will agree. These loaves also freeze very well. Note: You could try using applesauce for some or all of the oil in order to reduce the fat content. However....I haven't tried it myself.

Hi Diana,
Unfortunately this didn't turn out for us. We cooked it for 75 mins but this was too long. We have a NEF oven which is true to the correct temp. (AU 165 C) If you have a good oven it will only take 65 mins. Our cake was crusty on the outside. Nice but too dry.
Cheers
Ted
Preheat oven to 325*.
In a large bowl mix together eggs, both sugars, oil and both extracts.
Stir in grated zucchini. Set aside.
In another bowl mix flour, baking powder, baking soda, salt and cocoa powder.
Add to the zucchini mixture, mixing well.
Fold in nuts and raisins.
Pour into greased loaf pans.
Bake for approximately 75 minutes or until tested done with a toothpick.