Susie D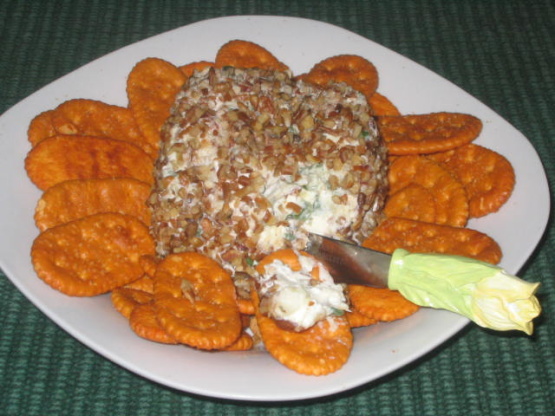 This is the best tasting cheese ball I've ever had. It's actually more along the lines of a dip except that it forms into a ball. The Accent is the ingredient that gives it extra appeal. I serve it when I'm having people over for a party or when I need to bring something to work for a potluck. People are always asking me for the recipe because it's fantastic!

I wondered about the 1 T measurement of the Accent when making this so cut it back to 2 t. If I were to make this again I would reduce it further to only 1/2 or 1 t. The cheese ball goes together easily, but the accent overpowers all of the other flavors. I lined a sm bowl with plastic wrap, packed in the filling, and then chilled. It made removing it & rolling into a ball easier. I also used the optional nut option. I added 1/8 cup to the cheeseball mixture & used another 1/8 cup to roll. I did like how colorful this was. The green pepper & green onions add a welcome note of color. Thank you for sharing your recipe.
Let the cream cheese soften a bit on the counter.
Chop green pepper and green onion as fine as possible.
Drain pineapple repeatedly (the more moisture you can get out of it the better your cheeseball will form).
Combine all ingredients in small bowl.
Chill for 1/2 hour.
Form into a ball and, if desired, roll in chopped pecans.
Chill until ready to serve.