judyhays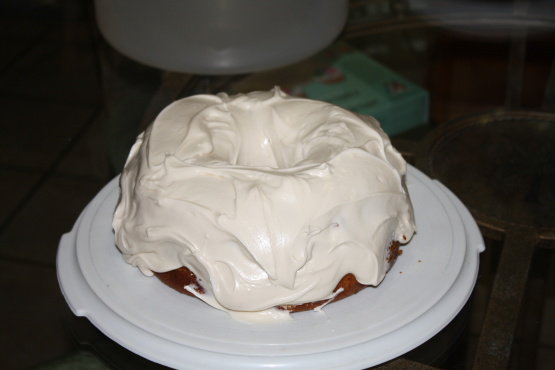 Extremely moist flavourful carrot cake, everyone requests this one again and again...
Preheat oven to 325 degrees.
Grease Bundt pan.
Beat oil, sugar and eggs.
Sift Flour, Baking Soda, Baking Powder, Salt , Cinnamon,Nutmeg and Ginger into the sugar and oil mixture.
Beat until just mixed -- Do not over mix.
Stir in Grated Carrots, Raisins and Pecans.
Bake for approx 45 mins, or until cake tester comes out clean,usually takes mine longer than 45 minutes.
To make frosting, Beat softened Cream cheese and Butter until well mixed and smooth and creamy, add the confectioners sugar in 1 cup increments and then add the vanilla, mix well and frost cake.