mjack930102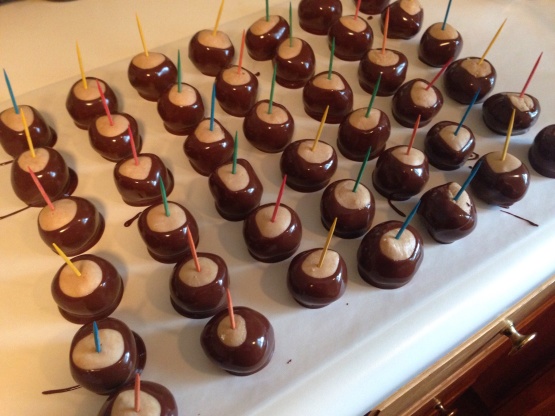 Small peanut butter balls that taste even better than Reese's Cups. The taste so good- be careful, they are addictive!

These are so good. They are much better cold. Make sure you let them get really cold before you try to dip them into the chocolate. Makes it so much easier. Thanks for this!! Will make again! My daughter loved to help make these.
Mix peanut butter, margarine or butter, powdered sugar, and vanilla in bowl (It helps to soften the margarine).
Shape into 1" balls.
Refrigerate balls.
Meanwhile, melt chocolate with a bit of crisco (so the chocolate will harden. Without crisco, chocolate will remain soft.) in double boiler.
Insert toothpick into refrigerated balls and dip into chocolate, leaving small area resembling a buckeye.
Cool on wax paper and store in refrigerator or freezer.