Best-ever Beef Barley Soup
GaylaJ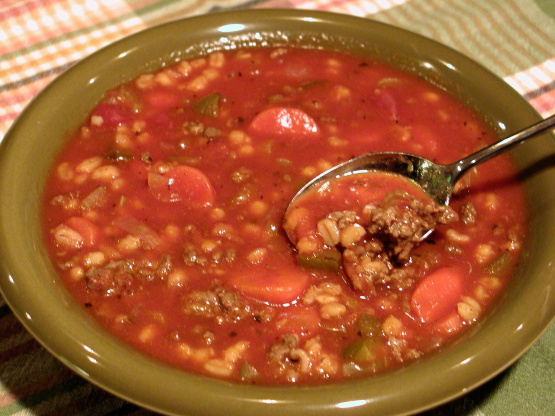 Soups are my very favorite thing to cook! Many great soup recipes have been collected over the 57 years I've been cooking.....and this is one of the best. It is easy and the catsup gives it a unique taste that everyone, kids especially, seem to really like. The recipe came from a daughter, who is a great cook.....Sarahloves2cook.

Excellent soup with a hearty consistency. Love the barley in it. Added a few handfuls of spinach just because I had some...it was great. Also used a leftover beef roast for the beef component and added a few chopped potatoes. This one is a keeper; thanks for sharing. One of the rare soups I don't find too salty for my low-sodium lifestyle, yet very flavorful.
In Dutch oven or soup pot, saute ground beef until it loses its red color, breaking it up as it cooks.
(I use a two-tined cooking fork.) Add all other ingredients.
Simmer for 1 1/4 to 1 1/2 hours.
Adjust seasonings, if necessary.