Best EVER almost fat free Banana Muffins
Tea Girl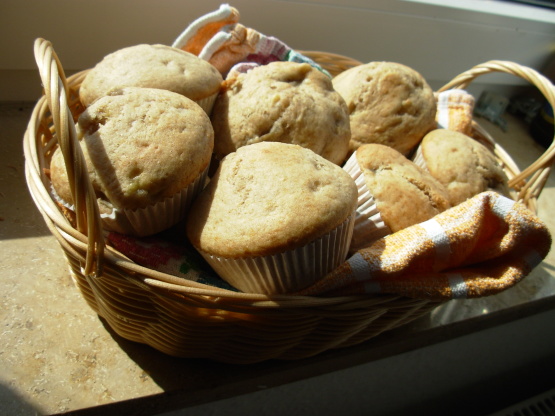 The muffins are so moist and yummy, and virtually fat free. Due to the low fat content they only stay fresh for a day or two, the best way to keep them (if they last that long!) is in the freezer and defrost as neccessary. They are fantastic warm!

Wow! These are really the best ever muffins I have had without added oil or butter in it. I don't think they will survive long enough to dry out. I couldn't find canned apples, so I just peeled, seeded and chopped a large granny smith and cooked in some water, 1/4 tsp molasses and a few drops of lemon juice and let it cool before making the muffins. I will be making these again, they remind me of my grandma's banana bread but without all the fat. Thanks so much for sharing. :) Made for PAC Autumn '09.
Preheat oven to 200 degrees (celcius).
Grease a 12 capacity muffin pan (and line with muffin cases if you wish).
Sift Flour, cinnamon, baking powder and soda into a large bowl.
Add sugar and mix dried ingredients well to combine.
In another bowl combine mashed banana, egg and skim milk.
Whisk banana mixture with a fork until well combined.
Gently fold banana mixture and apples into dry ingredients to combine.
Pour mixture into prepared muffin pan, bake for 12-15 minutes or until golden and cooked through.
*Optional–I make these muffins all the time so for something different, occasionally will add a tablespoon of chopped walnuts– fantastic!