Best, Easiest & Low Fat! Chicken Verde Enchiladas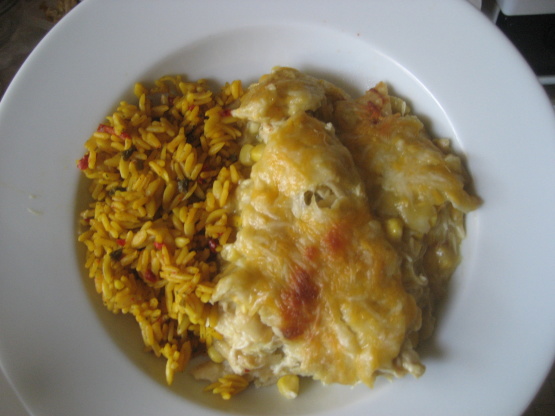 This is a simple recipe or else I would make it. Every time I make it my Hubby and I both go back for seconds! Simply said "It is ADDICTING!" :) NO heavy creams in this version. The textures I think are creamy enough. I'd love for you to hear your variations!
These are sooo good! I put the chicken in the crockpot with water in the a.m before work so it was ready to shred when I got home. It takes abit of time to fry the tortillas-but it is worth it! This recipe is cheap, quick, and yummy! Thanks for sharing!
12

(6 inch) corn tortillas

1

(28 ounce) canverde enchilada sauce

1

(15 ounce) can sweet corn

1

(16 ounce) Mexican blend cheese, Shredded
oil
Directions
Boil the chicken breasts in water until done.
While the chicken breasts are boiling, coat a frying pan in oil to fry Tortillas to medium brown. You'll want them firm.
Drain Chicken and shred.
Add 1/2 of the Verde Enchilada Sauce to the chicken and mix.
Put 4 tortillas on the bottom
Spoon 1/2 the Chicken mixture.
Add 1/2 can of Sweet Corn.
Add 1/3 bag of cheese.
Repeat with 4 tortillas,.
Spoon remaining 1/2 the Chicken mixture.
Add other 1/2 can of Sweet Corn.
Add 1/3 bag of cheese.
One more tortilla layer.
Pour remainder of the Verde Enchilada Sauce on top and down the edges.
Top with last portion of cheese.
Bake 375 for 20 minutes.