Best Darned Scrambled Eggs Ever!
JSkizzle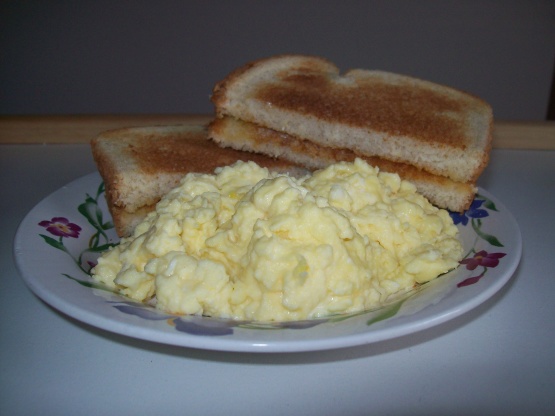 These are light & fluffy & a knockout on buttered toast! enjoy!

I didn't follow actual cooking instructions. Mine didn't turn out fluffy like the picture and I didn't have whipped cream cheese. I just used the regular cream cheese. The taste was ok. I think I prefer the taste of cheddar cheese instead.
Salt & pepper to taste, start small, you can always add more. Beat all ingredients until blended, the mixture will be a bit lumpy because of the cream cheese but it all works out. Pour into hot skillet & let sit until the bottom just turns opaque. Stir it all up & continue to stir, cooking until fluffy, remove from heat while still moist but not runny. Mound onto buttered toast. Devour.