Best Creamy Macaroni and Cheese
SharonChen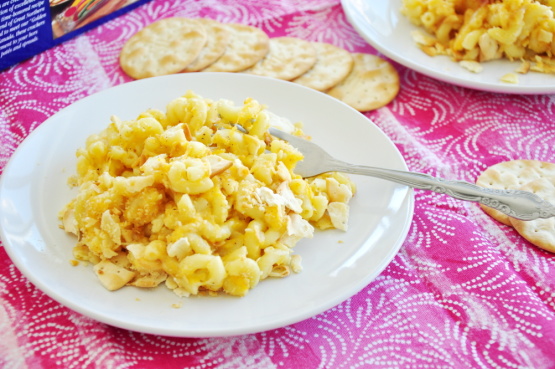 This is the best macaroni and cheese I have ever had. Omit the crushed crackers if you don't want the crunch. This is from Southern Living 1993, with a few changes.

I had some sour cream to use up and found this recipe. I am so happy I did! This makes a wonderfully creamy mac n' cheese. Since I didn't have cheese crackers on hand I crushed some Ritz, dabbed butter on the top and sprinkled parmesan cheese over it. Turned out fabulous! I think the crust ended up being my favourite part (I don't usually make mac n' cheese with any type of crust.) Delicious and definitely going to be a repeat dish for me! Thanks for sharing!
Bring water and salt to a boil in a large Dutch oven.
Stir in macaroni and return to a rapid boil.
Cook 8 to 10 minutes or until tender.
Drain, rinse with cold water, and drain again.
Combine macaroni, cheddar cheese, sour cream, and mayonnaise.
Spoon into a lightly greased 11"x7"x1 1/2" baking dish.
Sprinkle with crackers and bake at 325F 30-35 minutes.