Prep 25 mins
Cook 25 mins
This is the number one most requested dish at my house. Even my picky pre-teen daughters love this. Legend has it that this dish is named after a nineteenth century opera singer, Luisa Tetrazzini. This dish MUST be made a day in advance.
Directions
Cook chicken in lots of water until done. Save the stock!
Tear chicken into pieces and toss with onion salt and celery salt. Set aside.
Cook 1/2 lb of spaghetti per label directions in the reserved chicken stock. (add more water as needed).
Drain spaghetti and place in 9 x 13 baking dish.
In a skillet heat 3 tbsp butter,1 tbsp lemon juice and 1/2 tsp salt until melted. Pour this mixture over cooked spaghetti and toss lightly.
In same skillet slowly heat another 3 tbsp butter, 2 tbsp flour, 1/2 tsp pepper, 1/8 tsp nutmeg and 1/4 tsp paprika until smooth and thick. Remove from heat.
Add whipping cream to above mixture and stir.
Add the above to the chicken and toss.
Spoon chicken evenly over spaghetti.
Cover the chicken and spaghetti with 2/3 cup of grated Parmesan cheese.
Cover and refrigerate overnight.
Cook uncovered for 25 minutes in a 400 degree oven and enjoy!
Most Helpful
This went over big here too,with one exception. We all thought it was a tad too salty. Next time I'll reduce the onion/celery salt combo. Thanks!

Our family loved this! I have made 5 or 6 different tetrazzini recipes (all from scratch, no cream of crap soup allowed) and this was by far the best! I too added mushroom and pimentoes to the chicken mixture. This will go into our rotation menu! Thanks for posting!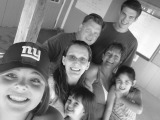 This is it! The taste I have been looking for in Tetrazzini! Of course, I didn't follow the recipe exactly (hardly ever do). I didn't use the onion and celery salt-I used chopped onion and celery and sauteed them a little. I also added some canned mushrooms. The rest of the recipe was followed exactly, except that I added 2 TBSP of sherry (it's just not tetrazzini without sherry to me) and put breadcrumbs and daubed butter on the top before baking. And it was perfect! I will definately be making this one again and again!