lazyme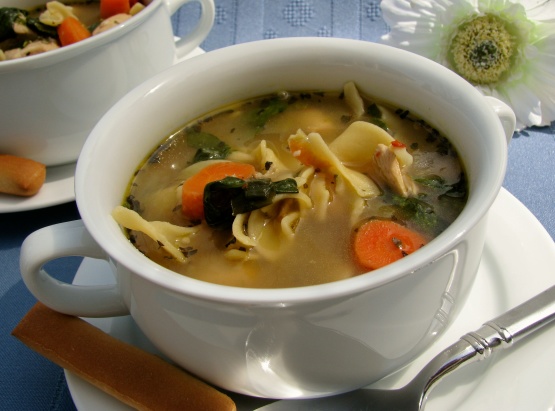 I took a few recipes and made a combination to create my very own chicken noodle soup - which I now freeze and give to my family and friends when they are sick!!

Top Review by lazyme
Yummy! My DH loves chicken noodle soup - but Campbell's the most, lol. He really enjoyed this version alot. I used sliced baby carrots and loved the red pepper flakes in this. Simple, smells wonderful, and very tasty. Thanks Le fromage de cuisine. Made for PAC Spring 2009.
Heat olive oil in large stock pot.
Add diced chicken pieces to pot to brown chicken, and cook for 5-10 minutes.
Add onions, celery, garlic and carrots and saute so everything begins to "sweat".
Add all seasonings and cook for a few more minutes.
Add chicken stock to mixture in pot and stir.
Add spinach leaves to stock and stir.
Bring this to a boil, uncovered.
Reduce to simmer and cook for about 15-20 minutes, seasoning broth to taste.
Add 1 cup of water to pot, bring to boil again.
Add the bag of noodles directly to pot and cook for another 15 minutes.
Once noodles are cooked, remove pot from heat.
When cooled, you can refrigerate or freeze.