SharonChen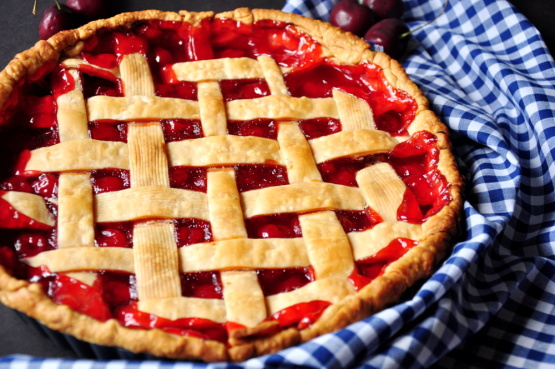 This is called Best Cherry Pie because it is a blue ribbon winner at the county fair in Vicksburg, MS (according to the cookbook "Vintage Vicksburg"). I think it's a blue ribbon winner

I didn't think I could improve on my cherry pie--WRONG! This replaces it in a heartbeat. Turned out beautifully. The only change I made was to give the upper crust an egg white wash, then sprinkle with sugar. Thanks, Luby for another winner.
1 1⁄4 cups sugar

3

tablespoons cornstarch
1⁄4 teaspoon salt

1

tablespoon butter, softened

2

(14 1/2 ounce) canspitted tart cherries, drained and reserving 1/2 cup juice
1⁄4 teaspoon red food coloring
1⁄4 teaspoon almond extract

2

teaspoons lemon juice

1

pastry for a double-crust 9-inch pie
Preheat oven to 400 degrees.
Drain cherries, reserving 1/2 cup juice.
Combine sugar, cornstarch and salt.
Combine cherry juice, food coloring, almond extract and lemon juice.
Add to dry ingredients, mixing well.
Add cherries and mix well again.
Add butter and let stand for 15 minutes.
Pour cherry mixture into pie crust and finish top with lattice work pie crust.
Bake for 50 to 55 minutes.