truebrit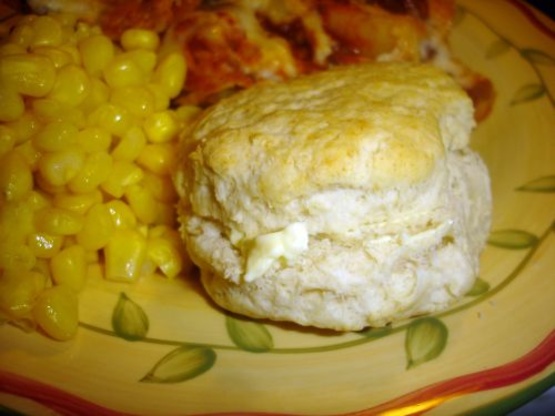 These basic biscuits are from King Arthur Flour - fluffy tender and delicious hot from the oven!

These were simple to prepare, and rose high! I used real butter, and in place of buttermilk, I substituted milk with about 2 teaspoons of lemon juice. The biscuit dough was easy to work with and roll out. I lined the pan with parchment paper before baking the biscuits. They were tender and delicious, and enjoyed by the whole family! Thanks!
Preheat oven to 450 degrees F.
Place the flour in a medium-sized bowl. Cut the vegetable shortening (or butter) into 1/2 inch cubes and toss the pieces with the flour.
Cut in the shortening (or butter) until it's the size of small peas (I use a pastry cutter).
Add 3/4 cup of the buttermilk and toss with a fork until the liquid is absorbed. Add the remaining 1/4 cup and toss well.
Place the dough on a floured work surface. Mold it with your hands so it holds together. Flatten and fold over twice. Repeat 3 or 4 times.
Pat the dough into a 1-inch thick circle, rectangle or square. Cut 1 1/2 inch to 3 inch round or square biscuits.
Place them onto an ungreased baking sheet, and brush the tops with melted butter or buttermilk if desired to make a shiny crust.
Bake the biscuits for 12 to 14 minutes, until they're golden brown.
Remove from the oven and serve warm.
Biscuit dough may be made the day before, refrigerated in an airtight container and then shaped and baked just prior to serving.
Yum!