Best Butter Cookies (Cutouts)
Parsley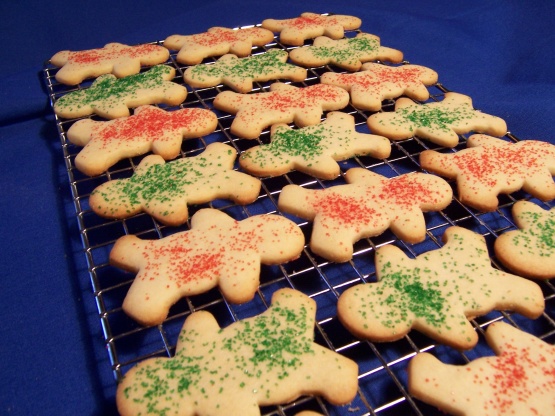 These cookies are one of my many usual cutout cookie recipes for Christmas cookies. Prep time includes chill time for dough. From Land O Lakes.

This doesn't need tweaking but I needed to substitute , I did not have orange juice, fearing the cookie needed that moisture I added milk instead. I also halve the extract and add half almond half vanilla. After using this recipe, I lost it and have searched all over for it. The absolute best cut out cookie ever !
In a large mixing bowl, beat together butter and sugar. Add in egg and beat well. Beat in orange juice and vanilla.
Combine flour and baking powder and gradually beat inches.
Chill dough for about 1 hour.
After dough has chilled, preheat oven to 400.
Roll dough on to lightly floured surface to about 1/8-1/4" thick. Cut into desired shapes with cookie cutters. Sprinkle w/ colored sugars, if desired.
Bake at 400 for 6-9 minutes (depending on cookie size) or until edges just slightly golden.