cbw8915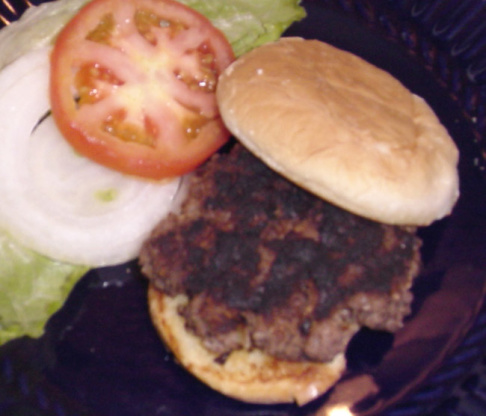 I must give credit where credit is due. I took this recipe from a TV grilling show called "Red Hot & Ready". The burgers were originally called "Caesar Burgers" but I think my name is more appropriate. These burgers are without a doubt the best I have ever had.

Top Review by bratty
These burgers were so good, we both really enjoyed them. I halved the recipe as there are just the two of us, and still ended up with 4 bugers. Really great flavor with just the slightest kick. I also added a slice of pepperjack cheese for a cheeseburger. These were great, and I will definately make these again very soon!
First off we must prepare a spicy butter mixing 6 oz soft butter in bowl with 1 teaspoon tabasco sauce and 1 teaspoon crushed red pepper.
Roll spicy butter into a log using plastic wrap and place in fridge.
Combine remaining ingredients in a bowl and mix well.
Take hardened spicy butter log from fridge, remove plastic wrap and cut butter into discs.
Take ground beef mix and shape into 6 oz balls, inserting spicy butter discs in middle (the spicy butter will flavour and keep the burgers moist while grilling).
Flatten balls into uniform patties, no more than an inch think, to ensure proper cooking.
Grill to desired temperature, serve on toasty buns and enjoy!