lazyme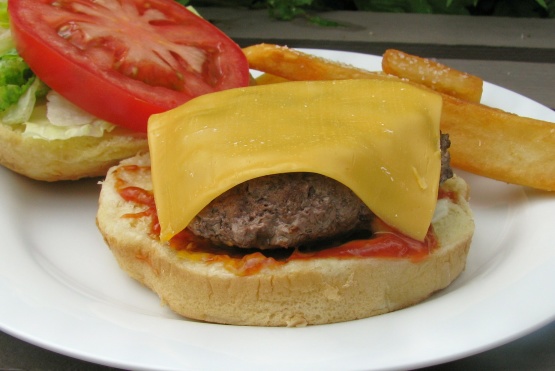 The very best way to make your burgers! Nice and juicy, and very easy! Adapted from a recipe on "Sara's Secrets" on Food Network. Also good on the grill.Yum!

Top Review by Shaye
I make my burgers this way, too. They are heavenly! I've also closed them up in alum foil and baked them, and broiled them. Best of all on the grill! Mmmm!
Mix ingredients well. You may also choose to add some steak seasoning to taste to give it a little extra zip.
Shape into 5-6 patties.
Place into a preheated skillet, cook on medium heat 6 minutes on each side, or until juices run clear.
Sometimes you will need to add oil to the pan before preheating to keep the meat from sticking and burning.
Top with your choice of cheese and place on bun with toppings like tomatoes, lettuce, pickles, etc.