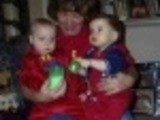 I made this salad for an end of school year pot luck. The following year I was asked if I would bring it again. People remember this salad from year to year. It can be made the day before and chilled - which is very helpful. It uses a full pound of bacon. The cook time is actually "chill time" in the refrigerator.
Directions
Combine all the salad ingredients, tossing well to mix.
Mix the dressing ingredients together then toss with the salad mix.
Let stand at least 1 hour in the refrigerator (can be made the day before).
Reviews
Most Helpful
Great salad. Thanks for the recipe. Even folks who don't like broccoli like this recipe. My minor variations include lightly blanching the broccoli, substituting pine nuts instead of sunflower seeds, and using low fat mayo. Also, used red onion.

Blanch the broccoli
I made this last night for my sister. She LOVES broccoli salad! She is home for several weeks recovering from surgery so I have been going over to make meals. I have never made broccoli salad, but our Mom made it for every big party we had YUM! <br/><br/>I made as the recipe says, with light mayo, addition of reduced fat cheddar cheese cubes, only 8oz of bacon. I agree with another reviewer, for some one bunch of broccoli may not be enough. Luckily, my sis LOVES it saucy! So she really enjoyed the extra wetness! <br/><br/>This is an EXCELLENT recipe! Thank you!!!!
Summer Central