Jader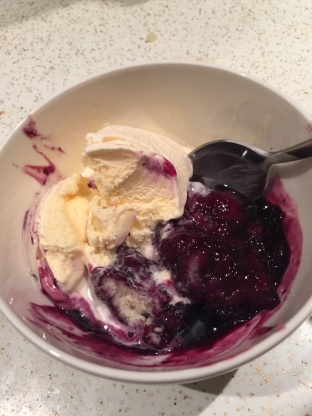 Blueberry Grunt is a very old recipe and can be found in many of the older cookbooks. It is basically berries baked with a sweet dumpling topping, but still a DELICIOUS dessert.

Instead of the frozen berries I was going to use, I found some great looking fresh ones at the market, & with them I made this simple yet OUTSTANDING DESSERT! Was going to share it with a neighbor, but after the 2 of us devoured almost half of it, we decided to keep it ALL in the family! ABSOLUTELY GREAT, & I'm hoping it will be just as good made with frozen berries! Thanks for a wonderful keeper! [Tagged, made & reviewed for one of my adoptees in the current Pick-A-Chef]
In a saucepan, combine the berries, sugar, water and lemon juice.
Heat to boiling and reduce to a simmer.
Combine the flour, sugar, baking powder and salt in a bowl.
Cut in the butter.
Add the milk, all at once and mix only until moistened.
Drop by spoonfuls into the simmering berries.
Cover and simmer for 15 minutes.
DO NOT LIFT THE LID.
Serve warm with Whipped Cream, Cream or Ice Cream.