Prep 15 mins
Cook 50 mins
My mom has been making this pie since I can remember, and now it is a staple in my kitchen. It uses quick cooking tapioca, and has a very fresh taste since you do not cook the blackberry mixture before baking. You can use fresh or frozen blackberries. I am always asked for the recipe when I take it to a pot-luck or gathering of friends. I love using Martha Stewart's Foolproof pie crust (Martha Stewarts Foolproof Pie Crust) for double-crust pies like this.
Directions
Prepare pie dough of your choice, chill, and roll out top and bottom crusts.
Preheat oven to 400.
Mix berries, tapioca, sugar, lemon juice, and salt in medium bowl.
Line 9" glass pie plate with dough. Fill with berry mixture. Dot with butter.
Cover with top crust; seal and flute edge. Cut several slits in crust to vent.
Brush top crust with milk and sprinkle with sanding sugar.
Bake for 45-50 minutes or until top and bottom crusts are golden brown. I usually cover crust with a foil circle part way through to prevent over-browning.
Reviews
Most Helpful
I thawed my berries in a bowl of water, then drained in a colander. I was afraid the pie would turn out soupy, but it turned out divine! It held its shape after being cut (after cooling for two hours) and has the most gorgeous color! So don't let those oh-so-juicy thawed berries worry you. So proud of the way this pie turned out that I wish I had somewhere to take it!

This was delightful. I didn't quite have 2 lbs. of frozen blackberries, so I supplemented some nice fresh ones. The filling thickened up nicely. Thanks for posting this family favorite.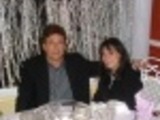 I crossed my fingers AND my toes. I didn't know the equivalent cups of the 2 pounds of blackberries as listed. I used frozen from last seasons roadside pick and because the filling isn't cooked in advance, I was so worried that I wouldn't have enough thickener included. Well, all turned out well and quite delicious.

Summer Central