SharonChen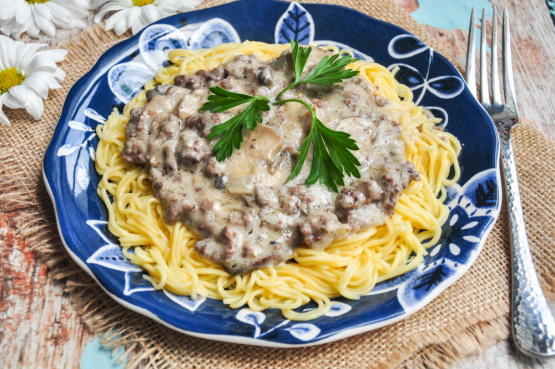 My mom made this beef stroganoff weekly when I was younger. I don't have the same metabolism I did then, but it's still the best $%#&* beef stroganoff I have ever had. I just want to thank everyone for all the wonderful reviews and ideas, I too now add a splash of Worcestershire sauce! Thanks again!

**PLEASE READ THIS BEFORE COOKING!!**
I read many of the reviews before working on this recipe and it has certainly helped.
I modified the recipe using a couple of suggestions from different people who have also reviewed this recipe.
Below are the simple modifications and some tips to make the best beef stroganoff you've ever had.
Use only 1/3 cup of sour cream. (1 cup is simply too much!)
Use 3 cloves of garlic instead of just one. (Adds more flavor. One is not enough.)
Add 1 and 1/2 to 2 Tablespoons of Worcestershire sauce before adding the soup (Adds more flavor.)
Use 1 teaspoon of black pepper instead of just 1/4 teaspoon. (Adds more flavor.)
Use fresh mushrooms (chopped thinly) instead of canned mushrooms. I used about half of an 8 oz package (the kind in the blue styrofoam.) Saute the mushrooms with the onion and garlic until browned. The fresh mushrooms add a buttery taste to the stroganoff.
I used 85% lean 15% fat ground beef.
I used a red onion. I don't think the type of onion matters but the important thing is mincing the onion and garlic really well!
For the cream of mushroom soup, I used "Campbell's Cream of Mushroom Soup with Garlic."
I added about 1/3 cup of milk and 1/3 cup of water after step 3 to help unthicken the soup.
The finished product should be amazing and flavorful! If you can see onions without looking closely for them, that means you probably did not mince them well enough.
Follow these tips and you won't have to worry about this recipe tasting bland like homemade hamburger helper.
Jimmy.
Sauté onion and garlic in butter over medium heat.
Stir in ground beef and brown stir in flour, salt, mushrooms, and pepper cook 5 minutes, then stir in soup. Simmer uncovered 10 minutes.
Stir in sour cream until heated. Serve over noodles.