bcjewel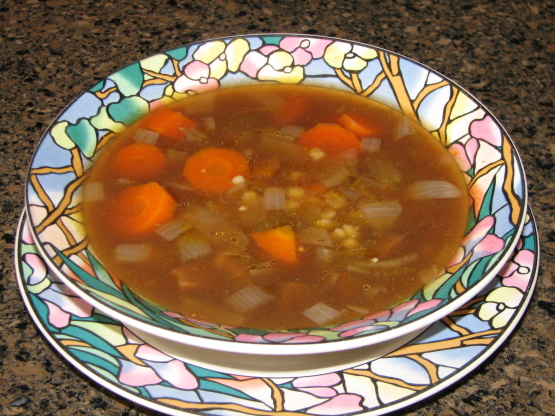 This is one of my favourite recipes for leftover roast beef - its delicious on a cold winter night!!If you don't have leftover beef, substitute with 1 lb of extra-lean ground beef, to be cooked with the onions. "Demi glace" or "au jus" can be found with the prepackaged gravies & sauces in the supermarket - you just won't get the same great flavour if you omit it!!

Wow!! This was fantastic. I made it in my 6 quart Rival slow cooker and was able to get 14 servings from this recipe. My family of five all had two bowls. I did make a few adjustments. I addded 1 teaspoon of crushed garlic, used 3 large carrots, 2 stalks of celery. I got everything ready the night before and just plug in the slow cooker in the morning. Cooked it on low for 10 hours. The flavor was fabulous. Next time, I might add 1/2 cup of red wine. Thanks for posting.
Heat oil in large Dutch oven.
Saute onions and garlic.
Add veggies and cook for about 10 minutes.
Add broth, water and barley.
Cover the pot and bring to a boil.
Add Worcestershire, spices and beef.
Stir in demi-glace.
Lower heat and simmer for 30- 45 minutes or until veggies and barley are tender.