Best Barbecued Pork Sandwiches
GaylaJ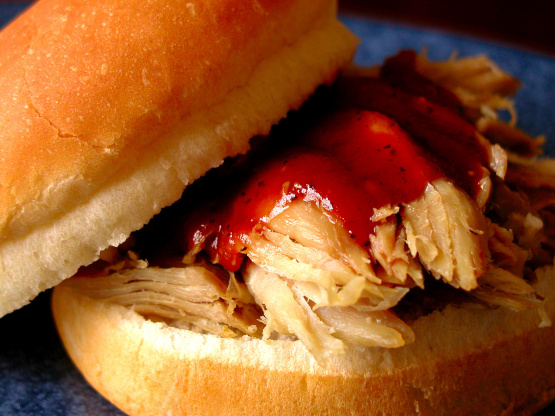 I haven't had any of my daughters' friends over for lunch or dinner that turned this sandwich down. Its worth cooking. The sauce can me refrigerated for up to 2 months.

Top Review by GaylaJ
While I generally prefer a spicy rub, the simple brown sugar was nice for a change. We enjoyed the sauce--I did simmer it for a while, then refrigerated overnight to allow flavors to blend before serving. I used a 5-pound Boston butt and cut it in half, but went ahead and cooked it all--I now have half in the freezer to look forward to later. :) Thanks for posting!
Rub pork with brown sugar.
Wrap loosely in foil.
Roast at 350°F for 2 ½-3 hours until very tender.
Pull into shreds with fork.
Spoon ½ cup in each bun.
Top each with 1 tbsp barbecue sauce.