Best Barbecue in the World
lazyme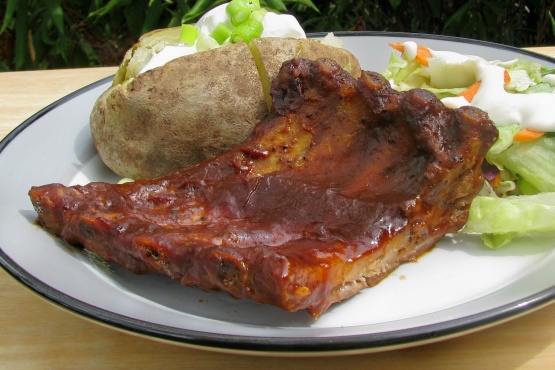 Best barbecue I have ever tasted, it even beats 'competition' Barbecue from Tennessee or Memphis. The amazing part was that it was cooked in the oven and not on a BBQ Grill. though you can cook on BBQ grill for better flavors. The sauce used in this recipe is ---- Select Pit Smoked Barbecue Sauce (from internet) it's sweet sauce with a spice notes and that never tasted "pit smoke flavor' which is the backbone of the taste.
OUT DOOR GRILLING:.
Heat Grill to low - medium heat.
Lightly oil the grill.
Grill ribs without sauce, turn to cook both side, till ribs are done.
Baste both side of the ribs with the Pit Smoked Barbecue Sauce. Move ribs away from the heat on grill and cover long enough to heat the barbecue sauce.
Serve.
INDOOR OVEN RIBS.
Wrap ribs tightly in a plastic (Saran) wrap and then aluminum foil.
Place on large oven pan and bake at 225°F for 2 1/2 to 3 hours.
Unwrap ribs, being careful to remove all plastic wrap and foil. Place on medium heated grill just long enough to brown.
Baste with Dinni's Select Pit Smoked Barbecue Sauce.