Redsie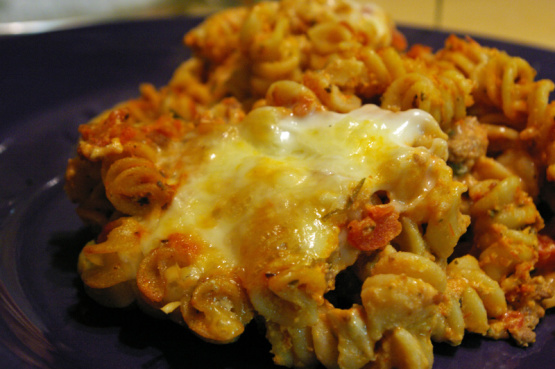 Looking for a way to use up that leftover Tomato Sauce you made the other day? What better way than to try this ziti recipe! You can use canned sauce, but homemade is always better! Hope you enjoy this recipe! My kids practically grew up on it

This is a essentially the same recipe that I have always used and is on the side of the San Giorgio ziti box. The ricotta is increased by 1/4 cp and the sauce by 1/2 cup, but otherwise the recipe is the same. I have always used this recipe as a base and then add 1/4 tsp nutmeg to the ricotta mixture. Very delicious. I use the fresh mozzarella packed in water. I think it is less processed than the packaged shredded type and makes for a creamier sauce.
Cook ziti according to package directions; drain.
In large bowl, combine ziti, 1 1/2 cups spaghetti sauce, ricotta cheese, mozzarella cheese, parsley, egg, oregano, garlic powder and pepper.
In a 9" x 13" pan (sprayed with cooking spray- for easy clean-up) pour 1/2 cup spaghetti sauce; spread ziti mixture evenly over sauce.
Top with remaining 1 1/2 cups spaghetti sauce and spread evenly; sprinkle with parmesan cheese (I add additional mozzarella to the top as well).
Bake covered at 375 degrees for 30-35 minutes or until hot and bubbly.