Prep 15 mins
Cook 40 mins

This is really good and easy to make! Its a real crowd pleaser too. Take it to your next potluck and you won't have any left. Its also great to make ahead on the weekend for a family weeknight. meal.
Directions
Bring a large pot of lightly salted water to a boil.
Add ziti pasta, and cook until al dente, about 8 minutes; drain.
In a large skillet, brown onion, garlic, and ground beef over medium heat.
Add spaghetti sauce, and simmer 15 minutes.
Preheat the oven to 350.
Spray a 9x13 inch baking dish with non stick cooking spray Layer as follows: 1/2 of the ziti, Provolone cheese, Ricotta, 1/2 sauce mixture, remaining ziti, mozzarella cheese and remaining sauce mixture.
Cover with foil.
Bake for 35 minutes in the preheated oven.
Remove from oven and remove foil.
Sprinkle with Parmesan cheese and return to oven uncovered.
Bake 5 minutes more or until cheese is golden brown.
*Increasebaking time if made ahead and refrigerated.
Most Helpful
Excellent! I've made this twice now. Once for the family and once for a Christmas Party and received good reviews on both occassions. I think the combination of different cheeses make this recipe special. It is one I will make again!
I have had this in my recipe book for quite awhile, so I decided it was time to get off of my buns and make it. LOL I was very pleased with the results, and also added 1/2 lb of italian sausage to the mix. Great, filling and easy recipe which I will be tinkering with many times for different flavors. Thank you, Little Bee! Oz :o)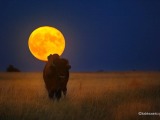 This was a great recipe. It was filled to the brim, but it didn't spill over! I did add 3/4 tsp garlic salt and 1 tsp basil, but just b/c my spaghetti sauce needed it. Thanks, will make again. Maybe next time I'll make 1/2 as it makes plenty.