Gina K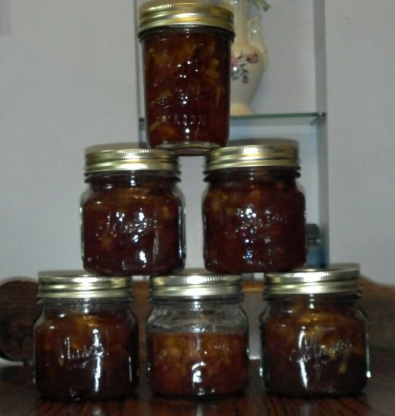 A friend gave me this wonderful recipe, and oh my, it is so good. Just like a extra good apple pie filling, but in jam form. If you love apple pie, you are going to have to make this wonderful recipe. My husband who only likes strawberry jam, said, "this recipe was EXCELLENT!" It is excellent on English muffins, pancakes or toast. Even over Ice cream too!!

Great recipe. Thanks for sharing. I took the tip to cut the apples very small. I tried the "stir for 5 mins after boiling" trick to get the apples to stay suspended in the jam, didn't work for me. Easy enough to stir the jam when you open a jar. I didn't like the goo to apple ratio, so i upped the apples some and reduced the sugars by 25% in my second batch with excellent results.
Measure apples in a measuring cup, now add in the same measuring cup water to fill up to the 4 cup line (with the apples in it).
Add pectin and the butter and spices, lemon juice.
Bring to a boil.
Add sugars and bring back to a full rolling boil, boil 1 minute.
Stir constantly.
Remove from the heat.
Skim off any foam.
Ladle into hot jars leaving 1/4-inch headspace.
Put on lids.
Process in water bath 10 minutes.