Satyne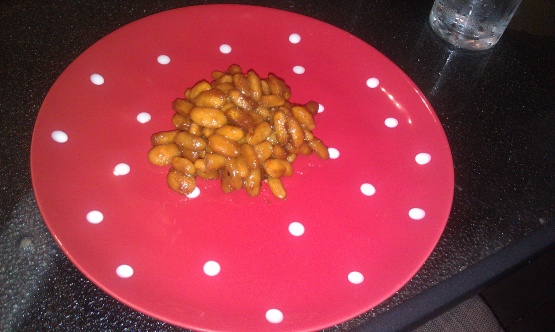 FIXED AFTER 3-STAR REVIEW. This recipe falls under the category: Crowd Pleaser. Two VERY crucial ingredients distinguish it from the rest of the pack - molasses and sour cream (or yogurt) - so you won't want to forget to add them. It's adapted from an award-winning Midwestern (U.S.) cookbook "Hollyhocks and Radishes" and is great for picnics, barbecues and potlucks (just double the recipe). You can use fava (broad) beans as well as butter (lima) beans (I prefer fava myself). This can also be made a day or two ahead and reheated.

Top Review by Satyne
I'm not going to rate this as it appears I didn't use nearly enough beans, although I'm not sure how much impact this would have on the end flavour.

I did find that the sauce was way too sweet for us and that was after accidently using too much mustard. I went with the sour cream option rather than yoghurt. It was smelling amazing while cooking, but like I said, way too sweet.
Preheat oven to 350 degrees.
Mix together all ingredients except beans, then combine with beans and pour into buttered 2 quart casserole.
Cover and bake 30 minutes. Uncover and bake another 30 minutes, or until liquid begins to cook away but not until dry.
NOTE: This recipe was designed to feed a crowd. If you would like to cut it in half please reduce cooking time.