Annacia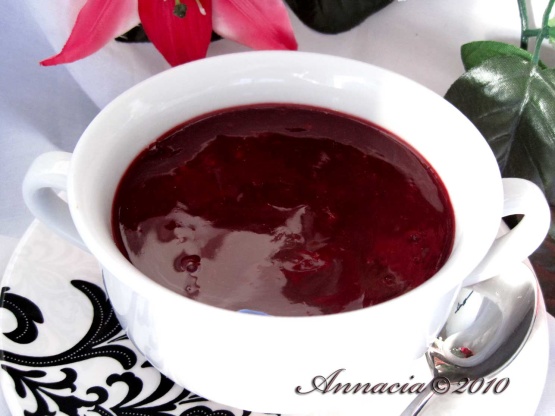 My Classic International Recipes Cookbook states: "Scandinavians consume Berry Soup as fast as the berries ripen. Some people eat this delightful soup with sour cream as an appetizer; others top it with whipped cream to make a dessert."

If you want to try something a little different, try this for breakfast over peanut butter toast. It is absolutely delicious!
Clean the berries, if fresh. (Or thaw berries, if frozen). In a sauce pan combine berries, 1 3/4 cups of the apple juice, cinnamon, and cloves. Bring to a boil; reduce heat. Simmer, uncovered, for 10 minutes, stirring occasionally.
Combine the remaining apple juice and the cornstarch; stir into the berry mixture. Cook and stir till slightly thickened and bubbly. Cook and stir 2 minutes more.
Remove from heat and stir in the vanilla. Remove and discard the stick cinnamon and whole cloves.
Spoon into 4 individual serving bowls. Garnish with whipped cream or sour cream, if desired.