jenne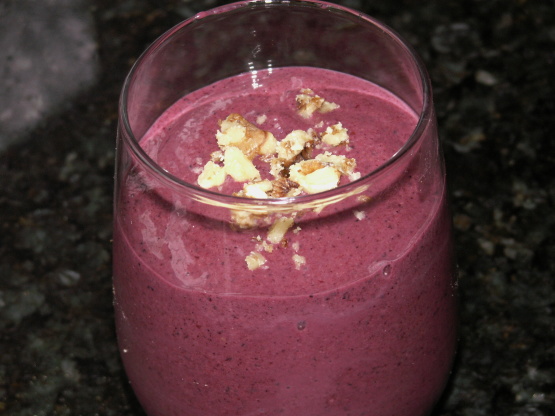 Filling substitute for any meal. Has protein, fruit, dairy and tastes like a dessert. I make this in my Magic Bullet blender; it fills the entire glass, and I don't have to try to pour it into anything else. What I'm left with is the one glass to wash! It seriously tastes like a thick milk shake.
Put frozen banana and berries on microwave-safe dish and defrost in microwave approximately 1 minute (I keep it hi-power). This makes it easier to blend, but still keeps it chilled.
Put one container of yogurt, the banana (peeled & sliced), cinnamon and sweetener in blender or "Magic Bullet" and blend until smooth.
Add remaining fruit and the second container of yogurt and blend until smooth and pink or purple!
Add walnuts(optional) and blend until smooth.