Rita1652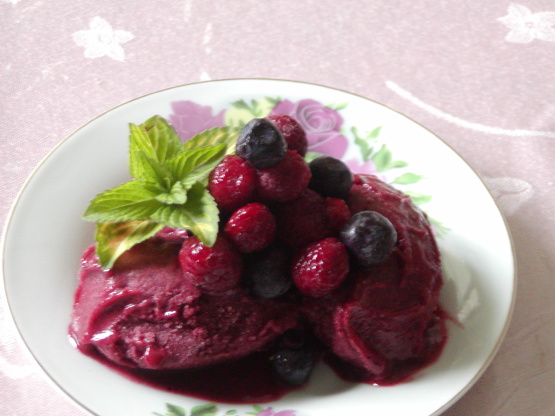 Simple sherbet uses frozen fruit for a taste of summer all year round. This is a great recipe for kids to make on a no-school day. Recipe source: Bon Appetit (May 1981)

I wish I could think of a way to give more than 5 stars. I so regret not getting an ice cream maker before now. This recipe is amazing, honestly it tastes like it's rich with cream without a drop of dairy. I doubled the amount to make a full batch for my machine with Costco mixed frozen berries, used 1/4 cup of sugar and 3/4 cup of Splenda, 1/2 a cup of pasteurized egg white and added between 1/4 to 1/2 a tsp of cinnamon extract. This is so good I could have eaten all of it right out of the machine and I'm stocking way up on those berries. If anyone comments on me turning purple in a month or so I'm just going to giggle and keep it all for myself!
1 1⁄2 cups unsweetened berries, slightly thawed (blueberries, strawberries or raspberries or a mixture of any frozen berries)
1⁄2 cup sugar

1

egg white (or use egg substitute)
Puree all ingredients using a food processor or blender until smooth.
Process according to ice cream maker directions or pour mixture into shallow pan, cover and freeze until firm.