loof751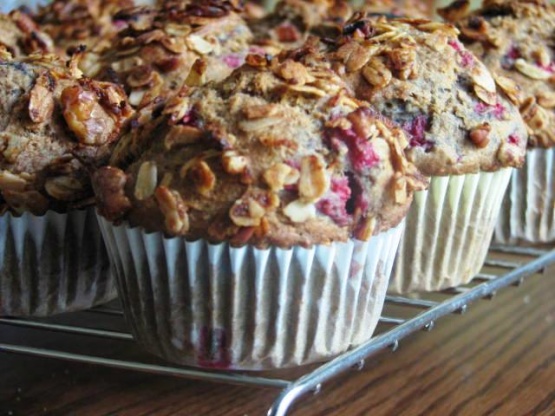 I've made these several times for breakfast.

These were pretty good muffins! I used raspberries and this flavor went well with the taste of the muffin. They baked up nice and tall, dense but not too dry. I would have like them to be a little sweeter so will probably add a little more brown sugar next time. The granola topping was great - yum!
Preheat oven to 400 degrees.
Place liners in a 12-muffin pan, spraying the liners with cooking spray isn't necessary but can keep the liners from sticking to the muffins.
Combine the bran, flour, brown sugar, baking soda, baking powder, cinnamon, and salt.
Separately mix the applesauce, egg substitute, oil and vanilla.
Mix the liquid and dry together.
Fold the nuts and berries into the batter.
Divide the batter between the muffin cups.
Place the granola on top and light press it into the top of the batter to form a topping for the muffins.
Bake approximately 18 minutes, until fully cooked.
Cool.