ciao4293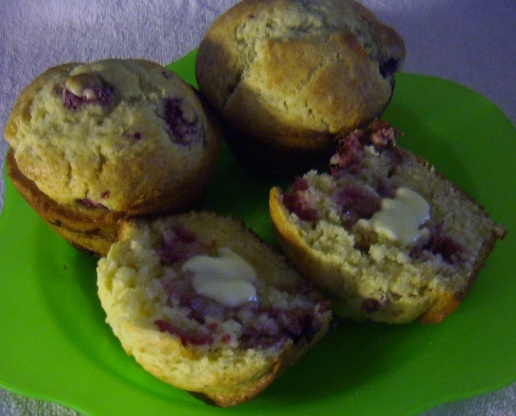 This is a recipe from The Muffin Lady cookbook, that I changed a little bit. It makes a delicious, bakery style muffin. I use a frozen berry mix, and the combination is heavenly.

As others have noted, the muffins from this recipe are not very sweet. That's fine for me, but knowing who I was making them for, I increased the sugar by about 70% and, with the added fruit, the sweetness ended up just about right. I also doubled the fruit, which might have been a little too much, as it turned out almost more like a tart than a muffin (but still yummy). I'd suggest a 50% increase in fruit. <br/><br/>One of my pet peeves in recipes is when the "preparation time" is unrealistically low. That was the case here. Five minutes?? Having none of the ingredients measured out in advance, it took me 20 minutes between when I started and when the muffins were in the oven. (Okay, I did answer the doorbell, so maybe I could have done it 17 or 18 minutes, but there's no way the prep could take only 5 minutes starting from scratch.)
Heat oven to 350 degrees.
Sift the dry ingredients together.
Mix in the eggs, oil, butter, milk and vanilla.
Fold in your choice of berries.
(I get a blend of frozen berries at my grocery store--raspberries, blackberries, strawberries and blueberries. These make a great mixed berry muffin,and they're much more economical than fresh. But use what you have) Pour into lightly greased, standard 12 muffin pan, or large 6 muffin pan.
(Tip-an ice cream scoop makes easy work of this task, and muffins are the same size.) Bake for 30-40 minutes, start checking at 30 minutes or so.
Cool in pan on rack for about 5 minutes, then turn on out on rack to cool.