Berry-Licious Cream Cheese Tart / Pie
Rita1652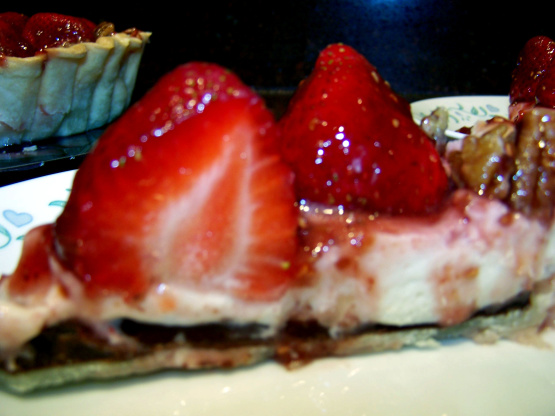 Move over Viagra! Chocolate, berries, honey, with creamy richness will do the job! What is not to love with this delicious dessert. Layered with a hidden layer of decadent chocolate topped with a creaminess and then berries glazed upon with raspberry and honey then crowned with pecans. This can be made in a tart or pie pan.

This recipe would satisfy everyones cravings. I made this to make sure it would be good. Wanted something special to take to our family 4th of July bash... and this is it. WOW my immediate family is happy they will get it again real soon.Thanks for sharing.
Chocolate layer

118.29

ml semi-sweet chocolate chips, melted

29.58

ml butter

Creamy cheese filling

226.79

g cream cheese, softened

59.14

ml whipping cream

177.44

ml powdered sugar

29.58

ml brandy (using a flavored like kirschwasser (cherries)

2.46

ml vanilla

473.18-709.77

ml fresh strawberries, washed, dried and hulled

Glaze

29.58

ml honey

59.14

ml seedless raspberry preserves

Pecan Crown

78.07-118.29

ml pecan halves, toasted
Crust:
Prepare pie crust in a tart or pie pan.
Preheat oven to 450 degrees.
Prick pie crust and cover with foil or wax paper topping with weights. Baking for 10 minutes.
Chocolate layer:.
Melt chocolate and butter together to blend. Spread melted chocolate over bottom of baked pie shell. Chill.
Creamy cheese filling:
Beat cream cheese with whipping cream, sugar, brandy, and vanilla.
Spread over chocolate. Chill 2-4 hours.
Glaze:.
Combine honey and preserves bring to a boil then reduce and simmer 5-10 minutes to reduce. Chill.
Arrange strawberries cut side down on cream.
Arrange pecans along the sides around the strawberries.
Brush berries and pecans with glaze.
Refrigerate until ready to serve. When slicing be sure to go through the chocolate and crust layers.