Derf2440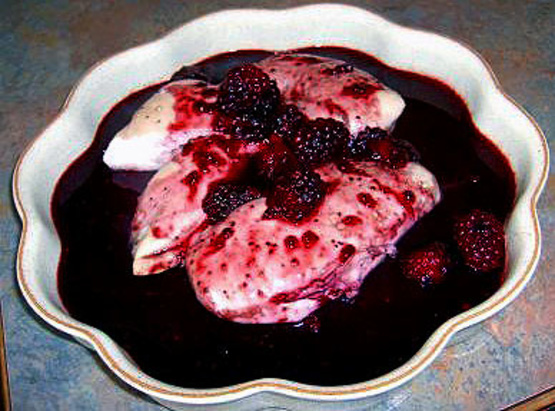 This dish has a nice tang to it with the blend of the jelly, berries and vinegars. I sometimes add a tbsp of dijon mustard. Beautiful presentation

Jan 30/02 This was good, DH is calling it "Sticky Lips"! I had some skinless legs in the freezer, so I used them instead of breasts. Seemed to work ok. Also cut the sauce back for 2, which worked out fine, Quite a tangy taste and it was pretty. Thanks Bergy! Update = June 1/04, I have made this several times, it is very good, should say Berry Berry good!! This time I had no red currant jelly, so I subbed with grape jelly, it worked out just great, almost the same taste. Thanks again Bergy!!
Whisk, over low heat, the red current jelly, vinegars and salt& pepper.
Simmer 5 minutes (you can do this ahead of time and put it in a jar in the fridge).
Heat oven to 375F degrees line a baking dish with foil.
Brush chicken all over with the sauce, place in a baking dish and bake for 20-30 minutes (depending on the size and if boneless or bone in).
When chicken is done heat the remaining sauce and stir in the blackberries cook about 2 minutes.
Place chicken on a platter and pour the sauce over, serve.