catxx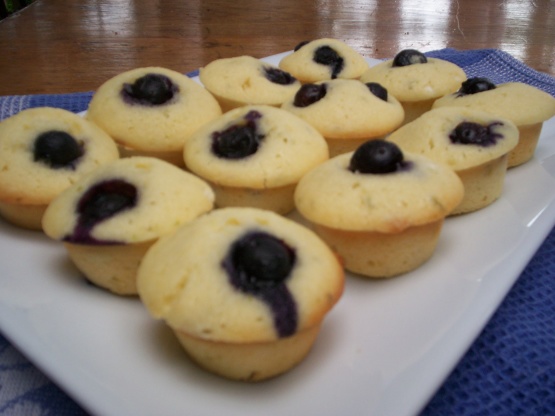 Very simple, very nice. No whisking, no folding, just simple stirring required. And you can substitute the blueberries with any type of berry, or even choc-chips or slivered almonds. This one is definitely a good thing!
Preheat oven to 180 degrees Celsius.
Melt the butter either in the microwave or in a saucepan over low heat on the stove. Set aside.
Sift the icing sugar, flour and baking powder together into a large bowl. Add the almond meal and stir to combine.
Add the egg whites and stir to combine.
Add the butter and stir to combine. Don't worry if there are a few lumps, just make sure there aren't too many. Mixture should be medium thick.
Lightly grease 10 muffin cups of about 1/2-cup capacity. If your tray has 12, grease 10 and fill the remaining cups with water.
Spoon 2 tablespoons into each cup, then sprinkle 2-4 blueberries on top.
Bake for 15-25 minutes, or until they spring back lightly when touched.