Berry Cream Cheese Coffee Cake
Belloo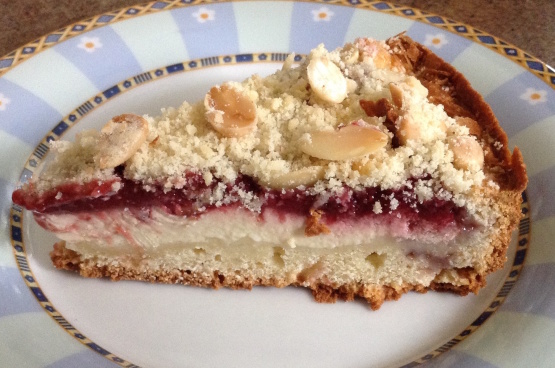 This beautiful cake looks just like a gourmet pastry chef made it! It tastes yummy too, of course.

Beautiful cake.. beautifully presented. Makes a wonderful gift or take along to dinners, breakfasts, etc. because it looks and tastes so good. I made only a couple of minor tweaks: added 1 tsp vanilla to the cream cheese mixture and added 1 tsp cinnamon to the crumbs reserved for the top of the cake. Very lightly sprinkled the cooled cake with confectioners sugar for a nice finishing touch.
FYI We have an abundance of wild blackberries at the farm. I cooked them down with sugar until they were thickened and used them in place of the preserves--fantastic! I bet one could do this with nearly any fruit. I think I may try peaches next as they are in season now. Also, I have baked it in both 9 and 10 inch springform pan. It works best in the 10 inch pan and bakes at the time specified. It took much longer in the 9 inch pan and even overcooked the cake a little to get the filling to set. Still, it was delicious and every last crumb disappeared. Thanks for this recipe. It's a keeper!
Heat oven to 350 degrees.
Grease and flour bottom and sides of 9 or 10 inch springform pan.
Combine flour and 3/4 cup sugar.
Add the butter to the sugar-flour mixture and cut with pastry blender or fork until it resembles coarse crumbs.
Reserve 1 cup of crumb mixture.
To remaining mixture, add baking powder, soda, salt, sour cream, one egg and almond extract; blend well.
Spread batter over bottom and up sides of pan 2 inches (batter should be 1/4 inch thick on sides).
Combine cream cheese, 1/4 cup sugar and 1 egg; blend well.
Pour over batter in pan.
Carefully spread preserves over all.
Combine reserved crumbs and sliced almonds.
Sprinkle over top.
Bake 55 minutes or until filling is set.
Cool 15 minutes.
Remove sides of pan.
Serve warm or cool.
Refrigerate leftovers.