R.Lynn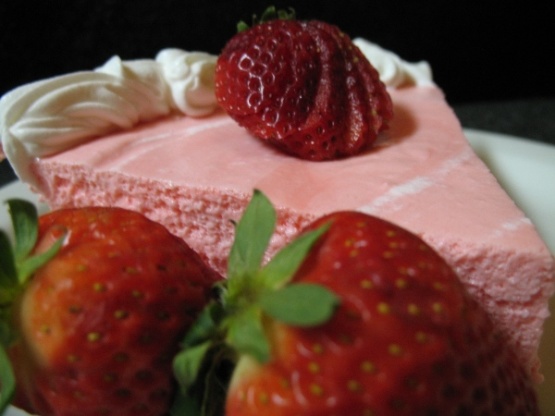 It was really hot last weekend here in TX, and I wanted something cool to make. My friend had sent this to me a while back and I decided to make it...boy am I glad! It was delicious!! Very cool and creamy and oh so easy! I used strawberry Jell-o and it turned out a really pretty pink! I can't wait to try lemon Jello-and maybe strawberry-banana Jell-o and wonder what orange Jell-o would be like? Cook time is refrigeration time.

I made two pies at one time, one strawberry one lemon, and prep time for both was only 15 minutes. Very easy to make and perfect for when you don't have much time. I used lite cool whip and reduced fat cheese with no trouble. Very nice.
In a large mixing bowl, dissolve gelatin and sugar in boiling water.
Beat in cream cheese until smooth.
Fold in whipped topping.
Pour into crust.
Refrigerate 2 hours or until set.