Lainey39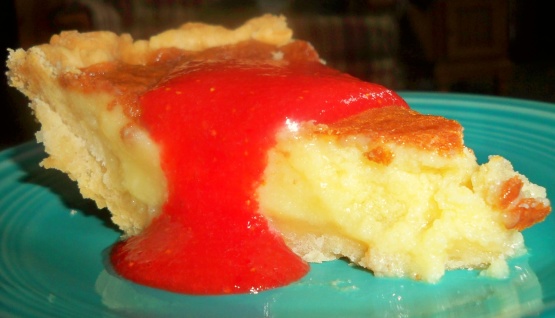 A classic buttermilk pie topped with strawberry sauce. Adapted from the May/June 2005 edition of the magazine 'Home Cooking'.

REALLY AN OUTSTANDING PIE! I had never had or made buttermilk pie, so this was a whole new ~ & wonderful ~ experience for me! We really enjoyed the taste of this dessert, & since it was so sweet, I was determined to get 10 servings from the pie! Didn't have fresh strawberries, though, so used frozen ones for the sauce! Thanks so much for another keeper recipe, & for a totally new taste treat! [Tagged, made & reviewed in Zaar Stars tag game]
Preheat the oven to 400ºF.
Cream the butter and sugar until light and fluffy, then add the eggs one at a time and beat until well-blended.
Add the buttermilk, vanilla and lemon zest. Mix well, pour into the pastry shell and bake for 5 minutes.
Reduce the heat to 350ºF and bake for an additional 40 minutes or until the custard sets.
Cool on a wire rack and chill before serving.
Serving: In a blender or food processor, puree the berries with the confectioners' sugar, top each pie slice with the berry sauce and one whole strawberry.