Ms B.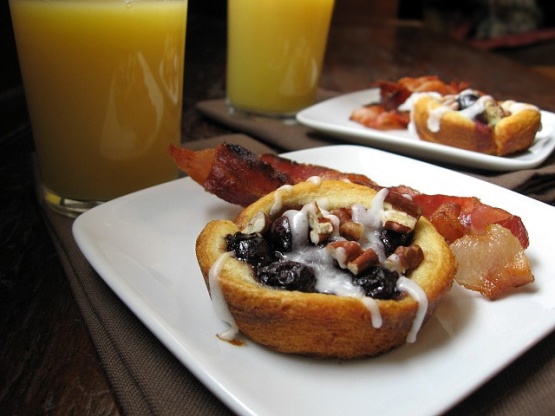 This recipe came from the Better Homes and Gardens diet program website. They're quick and easy, and since each one uses only half of a cinnamon roll, if you manage to eat only one, they're actually reasonably low in calories and fat. ;-) To speed things up, you can also just mix the pecans in with the blueberry mixture. I used frozen blueberries due to the season, and they turned out fine. According to Wikipedia: Nova Scotia, also a major producer of wild blueberries, recognizes the blueberry as its official provincial berry. Thus I am submitting this as a "Canadian" recipe for ZWT4. ;-)

We ate these for dessert and all liked these very much. The berries make for a very refreshing change from the ordinary cinnamon roll. I am very glad that I took your suggestion and used paper muffin cups, since a few overflowed. I'll be sure to make the dough into a taller cup shape next time to prevent any spillage. Thanks for the recipe. Made for PAC Spring '08.
1

(11 1/2 ounce) packageregrigerated cinnamon roll dough (8 rolls with icing)

1

cup fresh blueberries
1⁄3 cup blueberry preserves

1

teaspoon finely shredded lemon peel
1⁄4 cup chopped pecans
milk (optional)
Preheat oven to 375 degrees.
Grease 16 muffin cups. (I used paper muffin cups instead -- seemed more likely to contain any mess.).
Cut each cinnamon roll in half crosswise to create 2 short round rolls.
Press each half roll into one muffin cup, forming it into a cup shape. (That is, try to make it a little higher on the edges, with a recess in the middle where the "filling" can go.).
Mix together ther blueberries, preserves and lemon peel, and spoon some of the mixture into each muffin cup.
Sprinkle each cup with pecans.
Bake 12 minutes at 375 degrees until golden brown.
Cool for 10 minutes in the muffin tin, then remove and place on wire rack.
Drizzle icing over rolls. (If desired, thin with milk first to desired consistency.).