Parsley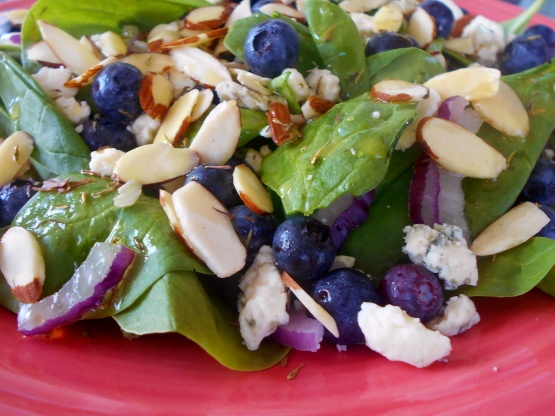 Recipe from Whole Foods Market - Blueberries add a burst of sweet, acidic flavor and significant antioxidant nutrition. The olive oil and orange juice dressing is enlivened by lemon thyme leaves. Add grilled or broiled chicken or tempeh for a heartier meal.

I made this salad for a summer patio lunch with friends. It was very pretty and yummy and something a little different which is always nice. I wanted a little more tang with the dressing so I added some white wine vinegar which went nicely. This gave me a reason to use the Lemon Thyme I have growing on my patio. Thanks Susie!
Place greens, blueberries, blue cheese and red onion in a serving bowl.
In a smaller bowl, whisk together olive oil, orange juice, lemon thyme leaves, shallot if desired, and salt and pepper to taste.
Toss salad with the dressing and garnish with roasted, sliced almonds.