flower7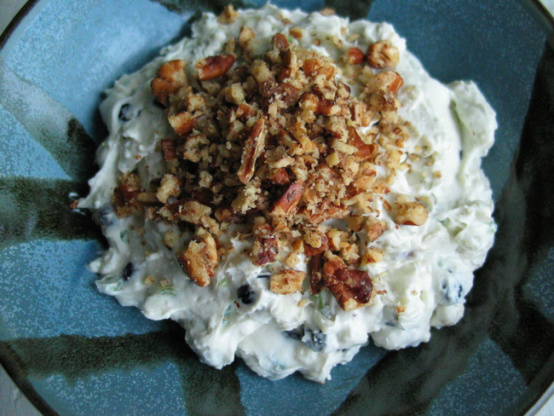 this was a $200.00 winner in the Create with Cheese category in Family Circle. The sweetness of the berries balances well with the saltiness of the blue cheese. A wonderful and deep flavor experience. The recipe calls for dried blueberries, but I had trouble finding them, so I used frozen berries but thawed them before using. Be careful when adding berries--stir gently or you will end up with blue appetizer. Cooking time is refrigeration time.

Yummy yummy yummy! I was looking for a recipe to use up some blue cheese and as I just happened to have bought some dried blueberries a couple weeks ago on a whim, this was perfect! The only pecans I had on hand were smoked & salted so I didn't use as many for fear of them adding too much salt. Other than halving the recipe, I only made one other change which was to add about an ounce of sour cream to help thin the spread. Served with pretzel crisps. I will be making this again for sure when I have blue cheese to use - loved the blueberries with the blue cheese. Thanks so much for sharing!
If using dried berries, place in a bowl and pour boiling water over them.
Let them sit for once minute, drain and set aside.
If using frozen berries, thaw out and drain off moisture.
In a large mixing bowl, beat cream cheese and blue cheese until nearly smooth.
Stir in berries, garlic and green onions, until just combined.
Transfer to a serving bowl, cover and refrigerate for up to 4 hours.
To serve, sprinkle with pecans and serve with crackers.