Berry Berry Frozen Yogurt (Healthy; for Ice Cream Machine)
ChefLee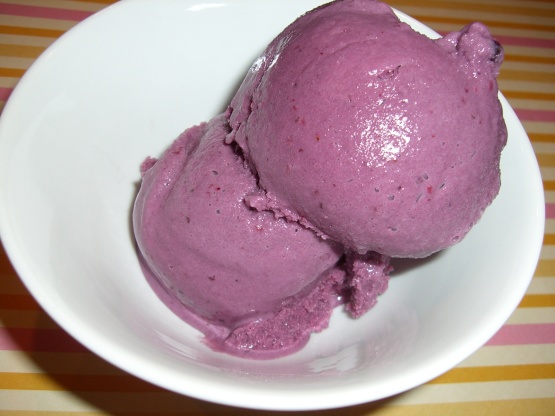 A perfect light dessert. Also great when you mix 1/2 cup of this stuff with 1/4 cup milk to make a smoothie! I'm an ice cream-aholic so I asked for a ice cream machine for Christmas. Well, I got one! muah ha ha ha!
In a medium bowl, mix the milk and sugar until the sugar is dissolved (about 1 to 2 minutes on low speed).
Stir in the yogurt, berry puree and extract.
Freeze according to manufacturers instructions.
NOTE: the ice cream gets really hard if its put into a container in the freezer. I put it in a plastic bowl. I had to defrost it in the microwave for a little while before I could dig into it. Anyone know a better container I could put it in? I was thinking an empty ice cream container that I'd already used all the ice cream from?