Berry Almond Crumble Oatmeal
Diana 2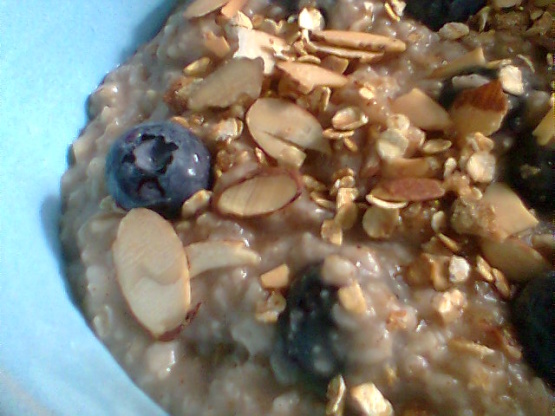 This recipe was delivered to my e-mail by Quaker Oats. I'm going to store it here so it doesn't get lost. This recipe appeals to me because of the fiber in the oatmeal. It is also low in sodium (although I've been known to add a pinch of salt to my oatmeal)
I have tried a lot of versions of oatmeal and this one of my favorites! The crunch on top made this extra special and I felt healthy eating it! Loved the blueberries, but will try with other fruits when I don't have them on hand. Made for PAC fall 09.
For topping:.
In a medium skillet, combine oats and almonds.
Cook over medium heat on low for 4 to 6 minutes, stirring occasionally, until oats and almonds are lightly browned.
Cool completely.
In a small bowl, combine brown sugar and cinnamon.
Add oat mixture, mix well.
For Oatmeal:.
In a medium saucepan, bring milk and cinnamon to a boil.
Stir in oats.
Return to a boil.
Reduce heat to medium.
Cook 1 minute for quick oats or 5 minutes for old fashioned oats, stirring occasionally.
Gently stir in blueberries.
Continue cooking until blueberries are heated through and most of liquid is absorbed, about 1 minute.
Spoon oatmeal into cereal bowls, Sprinkle topping over oatmeal. Enjoy!