Berries With Custard Sauce (Light and Easy)
awalde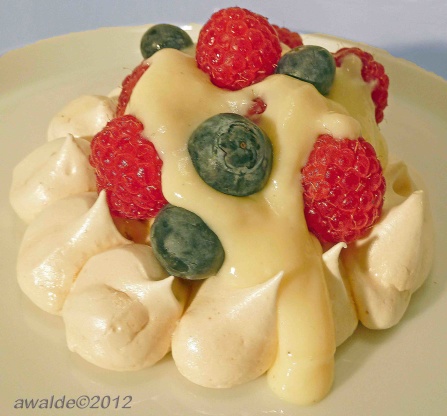 I just received this recipe in my Taste of Home newsletter. I haven't had a chance to make it yet, but I'm looking forward to trying it out. Time does not include chill time.

Top Review by awalde
This came out perfect, smooth and not too sweet.
I substituted sour cream with plain stabilized yogurt and it was a success.
I prepared some meringue rings. I spooned in the center some custard, place the berries and spooned some costard over the berries.
Thanks a lot for posting this recipe!
Beat eggs in a small bowl, set aside. In a saucepan, combine sugar, cornstarch and salt. Gradually stir in milk until smooth. Bring to a boil over medium heat, stirring constantly. Stir a small amount into eggs; return all to pan, stirring constantly. Cook and stir for 2 1/2 minutes or until mixture reaches 160 degrees.
Remove from the heat; stir in sour cream and vanilla. Set saucepan in ice and stir mixture for 5 minutes. Cover and refrigerate until serving.
Serve over berries -- strawberries, blueberries, raspberries (whatever mix of berries you prefer).
Yield: About 2 cups of sauce. Recipe did not state how much berries to use, so I but an estimated amount in the recipe.
I think it would be really good with angel food cake or shortcake.