Ninna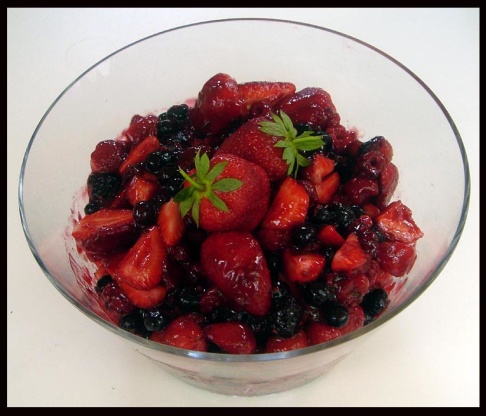 This is a refreshing summer dessert our friend Margaret makes each Boxing Day. It is not exactly as Margaret makes it because I made this from memory, it was never written down, but it does taste the same. The first couple of times I made this I used custard powder as I didn't have arrowroot, it worked fine. Make whatever quantity you need and use fresh or frozen berries, it is flexible. The berries look lovely served in martini glasses with bowl on the table for guests to have seconds.

Top Review by Jen T
Thanks Ninna for a delightful end to our Christmas Dinner. I served it with Streets Viennetta Vanilla Ice Cream and whipped brandy cream. :) I first tasted this dish when ninna served it to us when we visited her in October 2006. I am not sure mine was as great as hers but it certainly got 5* from family. A 'keeper' for sure. :)
Hull and halve most of the strawberries, leaving some whole for decoration.
Using a clear glass bowl for display add frozen berries and fresh strawberries and mix together, leaving the whole strawberries for later.
Put Cointreau, arrowroot and honey into a small saucepan and heat until it starts to thicken, then add about 1/4 of the berries from the glass dish and puree or blend with a stick blender.
Pour pureed berries over the mixed berries in the glass bowl and mix well, keeping the whole strawberries on top for decoration.
Taste now before chilling and adjust flavours, by adding more Cointreau and sweetener if necessary - I usually just add icing sugar instead of more honey.
Cover with cling wrap and chill then serve with ice-cream or whipped cream.